2017 Giant Anthem
The legendary Giant Anthem returns to conquer today's aggressive XC terrain. Featuring an updated Maestro suspension platform with a new trunnion mount shock and 110mm of smooth, active rear travel—along with refined geometry that's agile, stable and specifically design for 27.5 wheels.
In the past there was the extremely 'racey' and lean 100mm travel Giant Anthem and the Giant Anthem SX (no longer for 2017) which used the Anthem frame with 120mm travel forks and more aggressive parts. The new 2017 Anthem is even more aggressive than the outgoing Anthem SX and we love it. Throwing a leg over the Anthem, we quickly found it to be more inclined to shred our local fast trails than lap around a groomed race track, the forks are raked out in front of you and the seating position is nice and relaxed with plenty of room.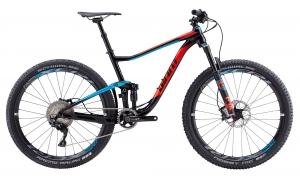 The Giant Anthem a lively ride, with the stout 110mm of rear travel feeling progressive, never wallowing or bogging down the way some longer travel bikes can. Combine the short travel and fun geometry and we loved how fast the bike felt on our regular Hertfordshire trails. There's a lot of riders sporting longer travel bikes who would do well by trying one of these and realising what 110mm of travel is capable of and how fast they could be on group riders – particularly on the climbs!
We have a number of 2017 Giant Anthems available and more are arriving in the shops on a weekly basis. Please call us to ask about availability as the popularity of this model means that they don't stick around in the shops for any length of time. We are planning on having a Demo Anthem available as we believe this is quite possibly one of the best trail bikes of 2017.